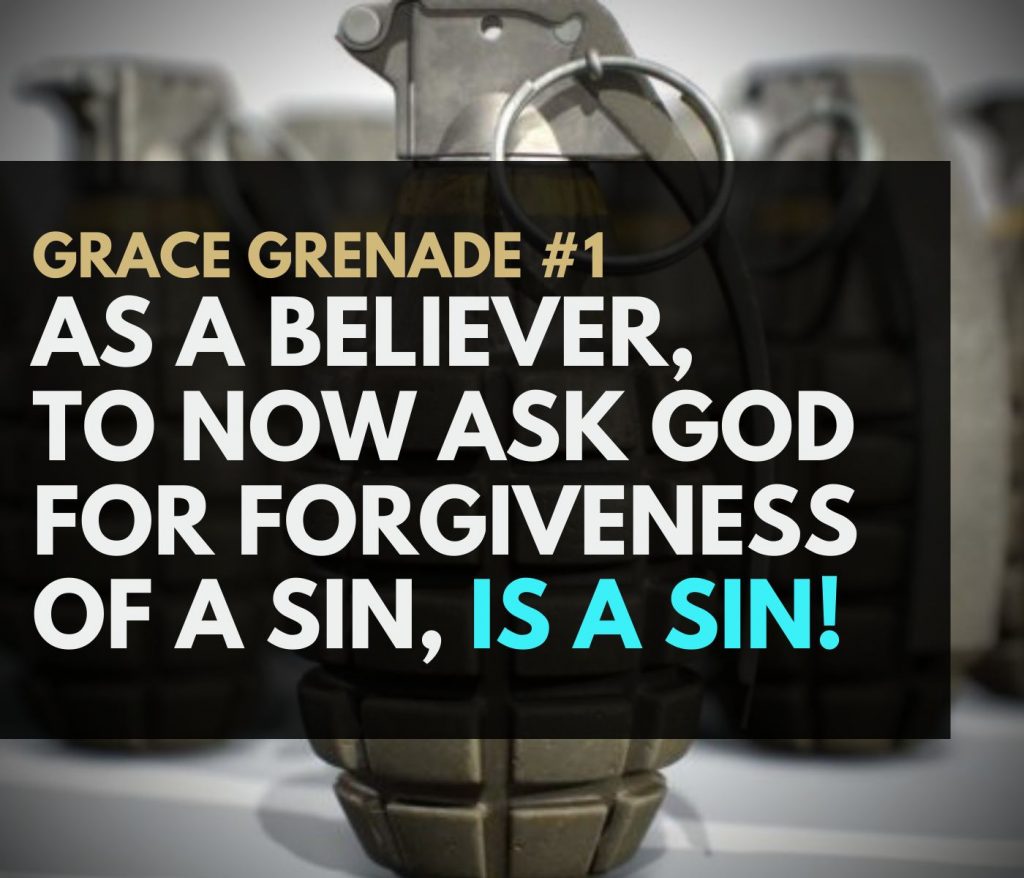 Sometimes you need an anointed preacher to throw a GRACE GRENADE into your head to blow the religious traditions out of your mind that are stopping you from being able to truly grasp the Gospel of grace. Here is grace grenade #1.
At the Cross Christ dealt once and for all with all of our sins for all of time. (Hebrews 10:12). When we received Christ we received the forgiveness of all of our sins. Not some but all. (Col 2:13). God didn't only forgive our past sins, He also forgave our future sins because they were all included in the sacrifice of Christ.
Now, if God has already forgiven us of all our sins past, present and future then to go and ask Him for something He has already given us, is actually unbelief. Because it's unbelief in the finished work of Christ. You are asking God for something you already have from Him, total forgiveness! The Bible says in Romans 14:23 that anything that is not of faith is sin. Therefore you asking God to forgive you for something that He already has is actually a sin! It's the sin of unbelief in the finished work of Jesus. All of our sins were either included in Christ 2000 years ago or they weren't. Christ either dealt with our sins completely or He didn't deal with them at all! There is no such things as partial or incomplete forgiveness. Forgiveness is total, it's a once off gift and according to the Bible it is PAST TENSE! It has already happened.
"And you, who were dead in your trespasses and the uncircumcision of your flesh, God made alive together with him, HAVING FORGIVEN us ALL our trespasses," -COLOSSIANS 2:13
There is no sin that God hasn't already forgiven in your life including from the start of your life to the end of your life.
In one act God has: forgiven our sins and cleansed us from all unrighteousness (1 John 1:9); separated our sins as far as the east is form the west (Psalms 103:12); remembers our sins no more (Hebrews 10:17) and will never count our sins against us ever again (2 Corinthians 5:19). To then go and ask God to do something He has already done is failing to see the finished work of Jesus. It's unbelief. It's sin. And we should stop it! We need to repent/change the way we think and believe in what Christ accomplished at the Cross!
Now I know the very first thing that people think of when you teach this is, "Well does that mean it's okay to just run out and sin?" This is the exact question people are supposed to ask after hearing the truth of grace. If people don't ask this question then you are not teaching grace correctly. This is the exact question Paul, the apostle of grace, would receive after teaching the truths of grace, which we see in Romans 6:1. The answer, of course, is always NO! God forbid! We shouldn't keep on sinning. However, before people can hear, "go and sin no more" they first need to hear "neither do I condemn you". Believers need to first hear "where sin abounded grace did much more abound" before they can hear "stop sinning".
I know this scares the traditions of man and centuries of Church doctrine but it is the Gospel. It's the New Covenant and you will always have a better result with God's truth than with mans traditions and opinions. People fear teaching total forgiveness because they assume it will lead to more sinning. But actually the opposite is true. The more we understand how much we have been forgiven the more it will lead to loving Jesus. Just like the "sinful" woman who washed Jesus' feet with her tears. Jesus said of her, "whoever is forgiven much loves much". But to the Pharisees who were relying on their works and didn't understand the extent of God's forgiveness Jesus said, "Those who are forgiven little love little". The truth is the more we understand the fullness of total forgiveness the more it leads to loving Jesus and sinning less!
So what do we do if we sin? Do we just ignore it because we have already been forgiven? No. Absolutely not. We should acknowledge our sin and feel sorry towards God for it. But instead of carrying around guilt and condemnation we should come to God boldly through grace thanking Him for the finished work of Christ. "Thank you God that even this sin was included in the sacrifice of Christ and I am already forgiven. Thank you that I am still the righteousness of God in Christ Jesus! Thank you that I am not cut off from you and that you still love me. Thank you that you are still close to me and for me and never against me. Please help me Father to get victory over this sin."
There was a time when God had to teach me this. I would sin and then run to Him and say sorry and ask for forgiveness. As I did this I would instantly hear the inward audible voice of God in my spirit saying, "I already have!" It always surprised me and it took awhile to understand it. Every time I cried out, "God please forgive me" I would hear Him instantly replying, "I already have!" Finally it became revelation to me that even my future sins God has forgiven and every time I run to Him He is already right there waiting for me!
Now, some teach that if we sin we don't need to get "judicial forgiveness" since we already have that in Christ, but we do need to get "parental forgiveness". They teach that our sin causes a relational separation between us and God and in order to restore our fellowship with God we need to repent and get "parental" forgiveness. Like if a child does something naughty against their parents, they need to say sorry in order for things to be good again between them. The problem is, this isn't actually in the Bible, it's something we've imposed on our relationship with God based on the nature of our earthly parental relationships. Because it's like this with our earthly relationships we assume it's like this with our heavenly one. But there's no such thing as judicial and parental forgiveness being a seperate thing in the Bible. In fact there's no such thing as parental forgiveness between us and God. I believe the intention of what people are trying to teach is good, however this teaching actually distorts the finished work of Jesus.
The truth is we have been fully reconciled to God and He is not counting our sins against us. There is nothing that can seperate us from the love of God our Father. Our sin cannot cut us off or break our fellowship with Him. Certainly not from His end. Our sin may make us feel far from God or actually lead us away from God, but the truth is God is never far from us. There is nothing in the way stopping us from coming boldly into His presence anytime! His love is constant, His forgiveness is permanent. If I sin, He doesn't reject me or cut me off. He doesn't change His mind towards me. He's not wanting to punish me or give me the cold shoulder. He's not upset with me until I say sorry. Of course He doesn't want us to sin but wants to protect us from it. He knows how sin is destructive and harmful to us. He knows that sin can distract us from Him or become an idol in our heart that will hinder our relationship with Him. And yes He wants us to turn from sin, and will confront us to turn from sin but at no point does God close off access to us or changed the way He thinks about us because of our sin. Our sin might change how we relate to God but it doesn't change how God relates to us. God relates to us through grace because of Jesus and the more we understand this the better our relationship with Him will become and the more He can lead us out of sin and into victory.
"But this Man, after He had offered ONE SACRIFICE FOR SINS FOREVER, sat down at the right hand of God" -HEBREWS 10:12
"In Him we have redemption through His blood, the forgiveness of sins, according to the riches of His grace" -EPHESIANS 1:7
"that is, in Christ God was reconciling the world to himself, not counting their trespasses against them," -2 CORINTHIANS 5:19
"I will remember their sins and their lawless deeds no more." Where there is forgiveness of these, there is no longer any offering for sin." -HEBREWS 10:17-18
By Ryan Rufus.
Find out more about:

Subscribe to our Monthly Newsletter to get your free e-copy
of "The Clear Message of Grace" booklet.